Venue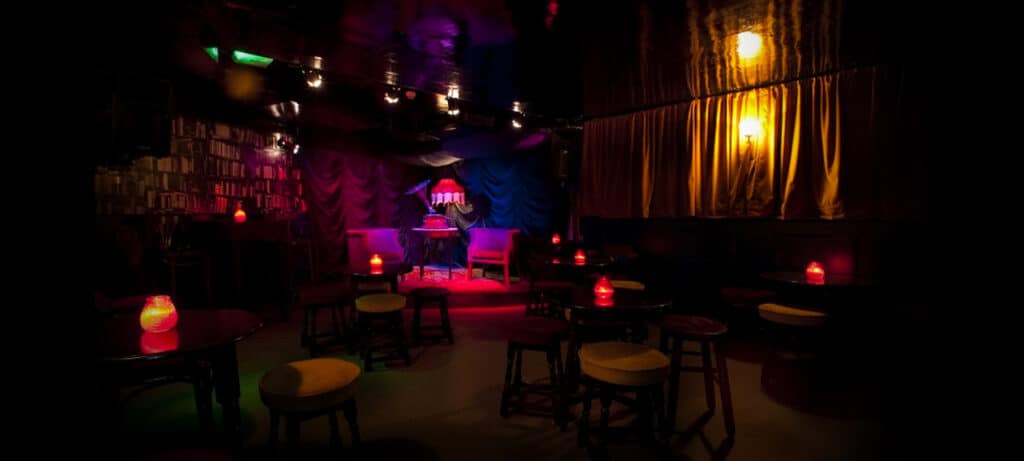 Our fabulous basement room has its own bar and hosts live music as well as regular comedy nights. It is also available for private hire for your own event or party.
The basement venue was originally the strongroom for a Barclays Bank and has now been transformed into a stylish and decadent speakeasy. With the corner stage surrounded by grand drapes and its dedicated green room we can accommodate all type of events.
Any promoters interested in viewing the venue and meeting our team please contact us here.
The venue has been used for music, video and modelling shoots. It is ideal for album launches and other PR events.
Technical Specifications
PA & Monitors
QSC K12 [2]
Mackie SRM450 monitors [2]
FBT Qube Subwoofer
Allen & Heath QU 16 digital mixing console
Back Line
Yamaha Gigmaker drum shells
100 watt Hi-watt bass amp
Microphones & DI Boxes
Shure SM57 [3]
Shure SM58 [7]
Active DI Box [6]
DJ Equipment
Pioneer CDJ-900NXS [2]
Technics 1210 MK 5 [2]
Allen & Heath Xone:62 mixer [2]
Find Us