WELCOME TO ACES & EIGHTS
Aces and Eights is a neighbourhood bar situated in North West London. Enjoy classic cocktails, local craft beer and delicious handmade pizza. Check out our classic Rock and Roll jukebox, plus late night DJs every Friday and Saturday.
We also have a intimate basement venue with a variety of live music and comedy, which is also available for private hire. bookings@acesandeightssaloonbar.com   
Find Us
Welcome to Ace's & Eights
Featured Act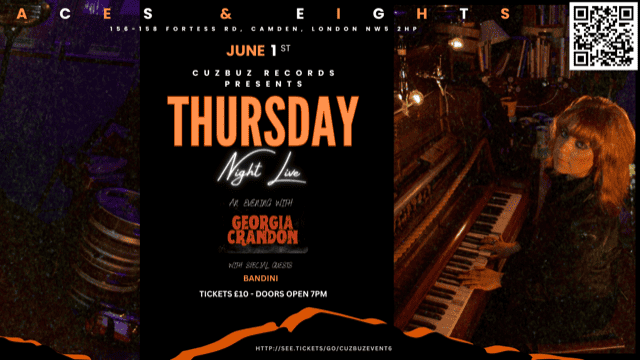 Cuzbuz Records Present Thursday Night LIVE  with Georgia Crandon and Friends… Returning to this 'Speakeasy' LIVE music venue as a duo… Supported by Jazz Blues maestro Al Bandini.
Georgia Crandon:
Retro vibes of Winehouse and flamboyance of Bolan
A rising singer/songwriter with a distinct sound that seamlessly blends elements of retro pop and soul. With a voice that is both powerful and vulnerable, Georgia's music is a reflection of her own personal experiences and struggles, infused with raw honesty and emotion. Her songs explore the ups and downs of life with a refreshing level of authenticity, and her lyrics often delve into themes of love, heartbreak, and self-discovery. Georgia's ability to channel her emotions into her music has earned her a growing fan base and critical acclaim, with many praising her unique style and distinctive voice.
With a passion for storytelling and a commitment to authenticity, Georgia Crandon is an artist to watch in the coming years. Her music is a testament to the power of vulnerability and the human spirit, and she continues to inspire listeners with her compelling voice and honest lyrics.
Bandini
Pure, wild energy on stage.
He mentions Van Morrison, Dr.John, Tom Waits and The Clash among his main influences, which have brought him to blend jazz, blues, rock and gypsy into a dynamic live show. This, combined with his enigmatic and theatrical stage performances have led Bandini to become one of the most relevant and exciting emerging artists today.