Sara Barron and Tatty Macleod WIPs
22/11/2022 @ Aces and Eights Saloon Bar
Doors: 7:00 pm
Price: £9.50
Sara Barron
Star of Live at the Apollo, Would I Lie to You, and Frankie Boyle's New World Order, Sara Barron is here to throw some new ideas at the wall. "New ideas" may include The Joy of Eavesdropping and A Fear of the Countryside, but no promises. It should be a sweaty entertaining mess, regardless.
Tatty Macleod: Fugue WIP
Tatty Macleod has gained a huge online following thanks to her French vs English sketches (37 million views across Instagram and TikTok). In this work-in-progress show, she pokes fun at cultural differences between old foes, France and England. Does knowing the difference between a Crêpe and a Galette make you French? Does eating beans on toast make you English? She shares her own experience of being a Roast Beef in France and a Frog in England as she tries to get to the bottom of what makes us who we are and where we belong.
Sara Barron / Tatty Macleod WIPs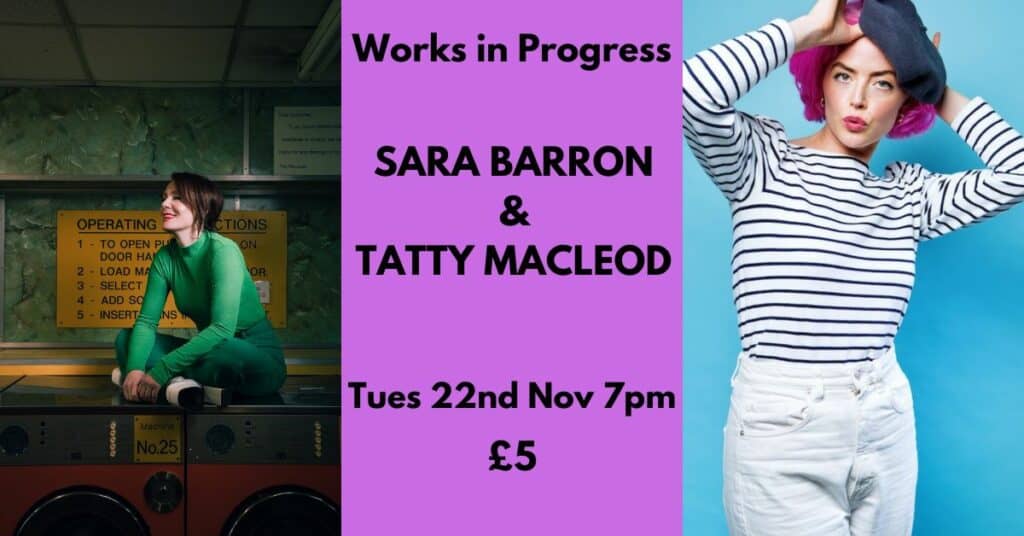 Calendar

Mon

Tue

Wed

Thu

Fri

Sat

Sun